Shared on

Wed, 02/17/2010 - 11:32
[FREE DRIFT SETUP]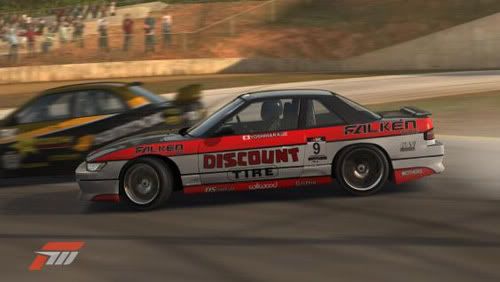 The guys at Team Blackjack and Wrecked Magazine got together to build a Formula Drift spec drift car for the avid game Forza Motorsport 3 drifter. In case your not familiar with Team Blackjack they made this very famous Forza 2 video Project Blackjack.
Here is how to build and drift a S13 to make you slide just like Daijiro Yoshihara in the Falken Tires x Discount Tire Nissan S13. You can find the Discount Tire design in the storefront by searching My Design Make: Nissan Model: S13 and use keyword search: discount. This will give you several designs at several prices to pick an exterior wrap.
Here is the Stuff You Need to Buy:
HKS Sport Air Filter
Hitachi Sport Fuel System
Greddy Race Ignition
Greddy Race Exhaust
HKS Sport Cams
Nismo Race Valves
Nismo Race Displacement
Supertech Race Pistons
HKS Sport Single Turbo
HKS Race Intercooler
HKS Race Oil Cooler
TODA Race Flywheel
AP Race Brakes
Tein Race Springs/Dampers
Tanabe Race Front Anti-Roll Bars
Tanabe Race Rear Anti-Roll Bars
OMP Race Chassis/Roll Cage
Race BRIDE Weight Reduction
Exedy Race Clutch
Nismo Sport Transmission
KAAZ Race Differential
Sport Tire Compound
Front Tire 225/45/17
Rear Tire 245/35/18
Upgrade Front Rim to 17
Upgrade Rear Rim to 18
Modulare Forged M3 wheels
Origin Front Bumper
Origin Rear Bumper
Origin Side Skirts
Seibon Street Hood
Now that you spent all that cash on parts, it's time to tune your ride for some ideal drifting.
Front Tire PSI: 32
Rear Tire PSI: 32
Final Drive Gearing: 4.30
Front Camber: -4.0
Rear Camber: -1.0
Front Toe: 1.0
Rear Toe: -0.5
Front Caster Angle: 6.0
Front Anti Roll Bars: 20.0
Rear Anti Roll Bars: 26.10
Front Springs: 602.4
Rear Springs: 524.5
Front Ride Height: 4.7 inches
Rear Ride Height: 4.5 inches
Front Rebound Stiffness: 3.8
Rear Rebound Stifness: 7.9
Front Bump Stiffness: 2.8
Rear Bump Stiffness: 5.7
Brake Balance: 44% front
Differential Acceleration: 100%
Differential Deceleration: 100%
The Hard Facts
S13 Cost: $5,000
Design: $1,000-$50,000
Install Upgrades: $136,790
Weight: 2,266 lbs.
Horsepower: 473hp
Class: S622