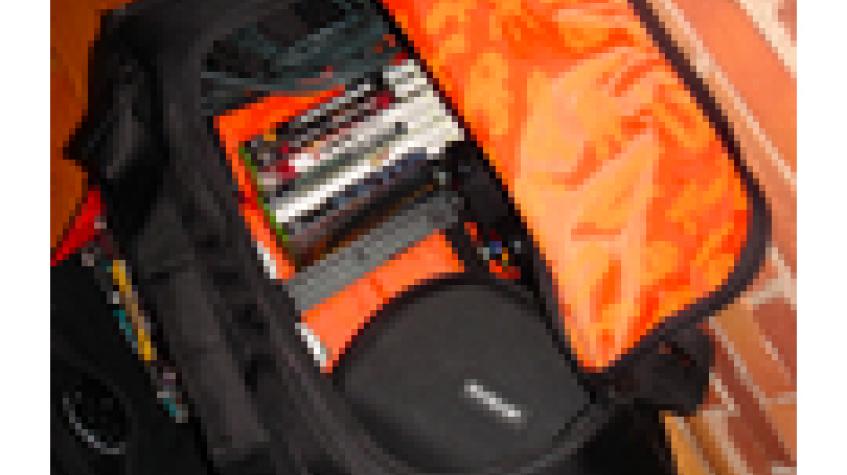 Josh, aka "Stormy", over at Astro Gaming was kind enough to send me the new Transport Series for a road test and review. I got the Mission System & Gear Bag and the Roadie Guitar Controller Case back in January and hit the road with the soft goods for a solid 3 months. I took the bags to Vegas, St. Louis, Chicago, New York , then finally back to my home in Portland, Maine. Here's what I thought.
Mission System & Gear Bag
Specs:
Construction: 1680D ballistic nylon with EVA-injected reinforced frame
Carries: Next Gen console, Power Supply, with gear specific storage for controllers, cables and games
Volume: 3200 cubic inches
Largest measurement: 25" long x 12" wide x 13" tall
Smallest measurement: 17" long x 12" wide x 13" tall
Construction
The ballistic nylon feels bullet-proof and would take a Rambo knife to cut into. It also stayed surprisingly clean for going through about 15 airports and 10 hotels – just clean with warm water, hang to dry. The buckles that connect the shoulder strap are wide Pittsburg steel, sure to last forever and will not let go like your mom's thin purse strap.
The shoulder strap is wide and fully padded; although when fully loaded seemed heavy on just one shoulder. I usually just carried it by the nylon top handles which seemed built with overkill in mind. All the zippers feel really tight and could probably keep out a spilled beer or Diet Coke. The zippers on the top also have interlocking loops that could be used to attach a small lock for added security at those crazy LAN parties. The front pouch is big enough to hold a ton of games or a PSP. It's also lined with a felt-like material to keep anything from getting scratched up.
Size
I could put the system, all the cables, my A40's, six games, two controllers (strapped to the sidewalls), three outfits and a few beers in the main compartment with no problem. This should be plenty big enough to get you through the 2009 2old2play Chicago LAN party this year. It fits in most of the overhead compartments of the Regional jets I flew around the U.S. but does not fit under the seat in front of you. It feels bigger than it needs to be – but the size could save you from having to carry two bags onto a full plane. At last year's 2old2play LAN, I had to pack a backpack for clothes and another bag for the system and gear. This year, it'll only be the Mission bag.
Price
This bag is currently retailing for $99.95, plus about $11.21 for UPS Ground, putting the total at $111.16. Good news is that if you're going to Meadowlands to beat up some little kids on the MLG Circuit, you can pick it up there. After using several other Xbox 360 bags, there is no doubt this is the BMW of system and gear bags. You get for what you pay for – and if you want to have the best in a gaming-specific bag, then you'll have to cough up the dough.
Overall
The construction, size and style of this bag are without a doubt the best on the market. It's a tad overpriced at nearly $100 – but if they could drop the price by $20, it would be a no-brainer. I found myself using this bag for everything from wine bottle transport to weekend trips in Vermont. If you want the best bag to get your gear to the LAN this year, you won't regret the purchase. And if you've been a good boy or girl this year, maybe Santa will drop one off.
Highly recommended to any gamer.
Roadie Guitar Controller Case
Specs
Construction: 1680D ballistic nylon with EVA-injected reinforced frame
Carries: Two Guitar Hero or Rock Band controllers, extra pocket for PS2 Slim
Volume: 2500 cubic inches
Dimensions (largest measurement): 35" long x 14.5" wide x 6.5" tall
Dimensions (smallest measurement): 35" long x 7.5" wide x 6.5" tall
Construction
I'll be honest with you, I'm not the hardcore Guitar Hero nailing Expert 100%. I'm more of the casual Hard 95% type of player but I can still appreciate good storage for my expensive gaming equipment. This guitar case is built like a real legit gig bag for a real guitar.
The features include a fully padded backing, felt lining, locking zippers and a fully padded super-wide shoulder strap. I would honestly feel comfortable keeping a real Taylor Baby guitar in this case – which may mean it's overbuilt for a plastic gaming guitar controller. When I put my Rockband guitar into the case and zip it up, it feels like a vault. It also includes two really great Astro Gaming guitar straps that would make the stock straps feel like overcooked spaghetti. The foam separator feels thick and solid but the design of barbed wire on the inside looks a little busy for my taste.
Size
It fits two, for you and a buddy. It's a short case that's just tall enough for the guitar; feels custom. I wore this on my shoulder through the airport and found it very comfortable. I felt like a nerd wearing it in public, got a few questions about what was in there, told them it was a midget.
Price
The Roadie retails for $79.95, plus around $12.88 for UPS Ground putting it at $92.83. This actually feels like the right price for this solidly-built case. It's a best-of-breed, and if you want the best guitar case for traveling or storage – here it is.
Overall
The construction is top notch and the details on the inside make this a great buy. The interior styling leaves much to be desired, and wearing this bag at the airport feels strange since I can't finish a song in Rockband or Guitar Hero on Expert. I would personally never spend the dough, almost a Benjamin, for a guitar case but if you are the dedicated rhythm master nailing every note on every song, you'd probably feel pretty confident about buying this and more importantly, traveling with it.
Recommended only to the traveling Guitar Hero.
---
The Astro Gaming Mission Bag Giveaway
Leave a comment on this review, and you'll be put into a random drawing for a new Astro Gaming Mission Bag. If you win I'll buy one, ship it to you and hopefully you'll use it to bring your game to the 2old2play Chicago LAN event this year.
Thanks again to Josh, aka "Stormy" over at Astro Gaming. See you on XBL.
All products mentioned can be found at www.astrogaming.com.