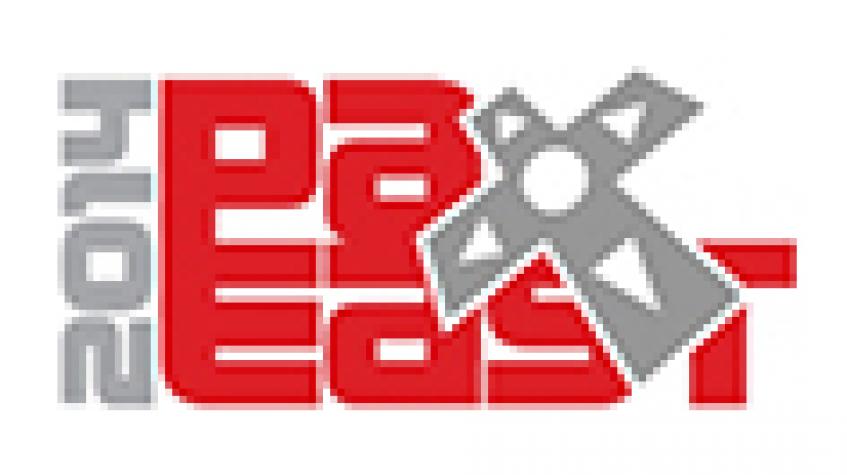 Pinball had a surprisingly large presence in at the Penny Arcade East Expo this year both in pure and video game forms. Here's a quick flip through what was on the floor.

The Pinball Arcade
New to PAX East (or perhaps I somehow missed them in previous years) was The Pinball Arcade, showing off some of their virtual tables for their PC, console, and mobile OSes. They had actual the actual physical tables for Ripley's Believe it or Not and Harley Davidson available for players to get some hands on silver ball time before checking out their virtual cousins. A bunch of playable virtual tables were running on Xbox and Android in their booth.
I checked out Attack from Mars on Xbox and was impressed with the graphics and speed. I also really liked the aspect ratio which is always tough to get right in a pinball simulation. Not sure if it helped that I was standing up playing instead of sitting on my couch. Luckily I will get to find out for sure soon as they were offered codes to anyone that signed up at PAX for four tables on the OS of their choice. I am looking forward to checking out Tales of the Arabian Knights, Theater of Magic, Ripley's Believe it or Not, and Black Hole on Steam on my new Windows 8 tablet. They  have a bunch of other table packs available for purchase the I'm looking forward to checking out.  
http://www.youtube.com/watch?v=7qLhqSRIG50[width=650,height=366]
ACAM Classic Arcade Room
The American Classic Arcade was back with an old skool arcade setup on level 1 of of the Expo hall. A bunch of classic arcade machines take the short trip down from their museum home in New Hampshire (hosted at Fun Spot) for PAX East each year. Maybe one day the infamous Donkey Kong cabinet where Steve Wiebe "defeated" absent Billy Mitchell in the documentary King of Kong:  A Fist Full of Quarters will make the trip! They had all sorts of classic arcade titles as well as 3 electro mechanical pins all available on free play. The pins available were a 1979 Gottlieb Solar Ride, 1979 Williams Flash, and a 1973 Williams Fun Fest. Take a look at everything ACAM brought to 2013 PAX East in the video below.
https://www.youtube.com/watch?v=bvHz1UrDBfU[width=650,height=366]
Playin' Pinball with Lord Karnage Panel
There was even a whole panel devoted to pinball on Sunday morning titled Playin' Pinball with Lord Karnage.  I didn't actually make it to this one as it was the same time as another panel I was covering but being on top of the New England pinball leagues I'm familiar with World Pinball Champion Bowen Kerins and PAPA TV ( the pinball industry's destination for competitive pinball coverage, expo seminars, product reviews & more) so I'm sure it was an interesting one.  Hopefully it was popular and I can make it next year!  Here's the overview from the PAX Guide.
Playing pinball is more than flipping, flailing, and watching the ball go down the middle. Reigning world champion Bowen Kerins will help you play better. Joining him are the two Marks: Mark Steinman, "King of Pinball", creator of PAPA TV, and Mark Bussler, "Lord Karnage", creator of Classic Game Room. We'll play the games and give out prizes while talking about CGR's series of gaming videos and PAPA TV's live broadcasting of pinball tournaments.
PANELISTS:
Bowen Kerins [World Champion, Professional & Amateur Pinball Association], Mark Steinman [Director, Professional & Amateur Pinball Association], Mark Bussler [Intergalactic Space Arcade Manager, Classic Game Room]
https://www.youtube.com/watch?v=7y-11r4djkQ[width=650,height=366]
Rollers of the Realm
An awesome title in the Indie Mini Booth was Rollers of the Realm. Phantom Compass is an indie game studio that's worked on titles for other companies in the past. Their first endeavor into making their own games has already won a bunch of awards from at shows ranging from GDC to SXSW.  The gameplay combines pinball and RPG mechanics which sounds strange but worked well and was a lot of fun. Tables are laid out in sections like levels you have defeat. A story complete with cut scenes unfolds as you progress through levels. Different classes of characters are available to choose which will affect ball mechanics giving them unique sizes and weights. I'm looking forward to playing when its available later this year. The title has already been greenlit on Steam.
https://www.youtube.com/watch?v=BwQnbIo_u0o[width=650,height=366]
-- Erin "ErinAS" Seiden